Day 35 - Reward/Immunity Challenge (Results)
Well guys, after tallying up the points, we have a winner. It was a close battle between, Shannon, Sam, Miguel and Ian. But there can only be one winner...
With a score of 267,5 to 240.3 to 238 to 234.9... (After penalties. 270-267-261-238 without penalties)
IAN WINS HIS FIRST INDIVIDUAL IMMUNITY!!!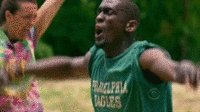 Congrats Ian. You are safe from receiving votes at the next Tribal Council. You also have won Reward in the form of tasty hamburgers! Please select one tribemate to join you on your reward and please select the items you will carry with yourselves. As for the rest of you guys, please head back to camp.
A Hamburger from Hesburger
A Hamburger from McDonalds